Spot GPS gen3
This little guy gets 4 stars across the board. This device is perfect for those of us who actually enjoy getting far away from cell phone towers, and the boss.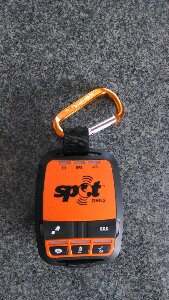 The best part about this device is that it is ONE WAY communication. You can call for help, but the boss cannot call to ask you for a progress report while you are on your adventure.
You can set the device to "TRACK ME" and forget about it.  It will periodically update the webpage you have created for your family, friends, or fans to monitor.
In the event you are overdue, your last known location can easily be routed to a search/rescue effort.
This little guy is based on GPS technology and it communicates directly with a host satellite. You can have messages routed to a friend's email account, or in the form of SMS messages their cell phone.
In this manner, your family and friends (or fans) can track your adventure even while you are in remote locations.  This device isn't for everyone, but if you are trekking in Nepal or crossing a wilderness area…. it could save your life.
As a subscriber (required 1yr subscription term), you are able to create a "shared page" or a "private page" on the SpotGPS website.  This page allows you to show a trail (like bread crumbs on a map) that can be used to track your progress.
You can also send messages to your Twitter, or Facebook account using the device's "check-in" or "message" feature.
Facebook settings permit you to update either your personal account, or a fan page with the message.  If you are an extreme athlete, this device can be used to update your fans.
For the messaging function, you must pre-select your custom messages because the device only has a limited number of buttons and the communication with the satellite must be rudimental in order to be affordable.
This device is going to set you back several hundred dollars, but being able to summon emergency help when you are incapacitated and/or outside cell phone reception is absolutely priceless.
SUMMARY
PRICE: Excellent   $150
SERVICE: Required $150/yr
DURABILITY: Excellent
EASE OF USE: Excellent